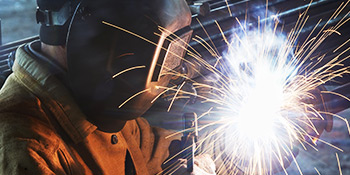 Welding
Providing AWS certified welders with years of experience. Processes include MIG, TIG, Stick,and Spot welding, on carbon steel, stainless steel, and aluminum.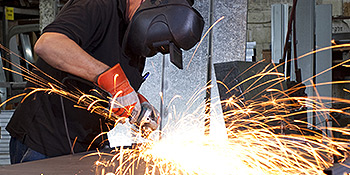 Fabrication
Custom shop fabrication, including railing systems and stairs, commercial process equipment, storage tanks, metal resurfacing, coating systems, and high definition plasma cutting up to 1.5".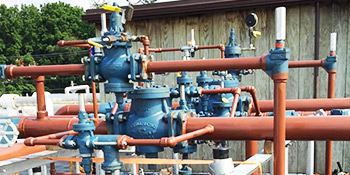 Piping Systems
All forms of process piping, drainage systems, storm collection systems, working with all material from plastics to stainless steel.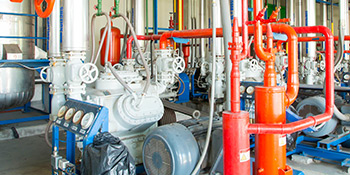 Industrial Refrigeration
Ammonia piping installation, repair services, and pressure testing. Services include complete removal, and replacement of compressors, chillers, evaporators, cooling towers, etc.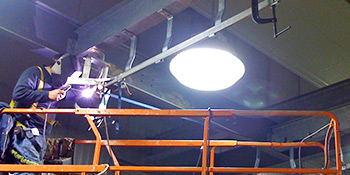 Industrial Maintenance & Repair
General maintenance and repair services for commercial customers. Including, building renovations, catwalk systems, painting, carpentry, flooring, and plumbing. No job too big, or too small. Our team is on call 24/7 for emergency repairs.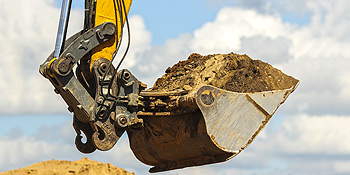 Excavating Services
Commercial and residential excavating services. Land clearing, grading, trenching, repairing, and replacing water and sewer lines. Capable of handling larger projects, as well as complete site restoration (landscaping and seeding).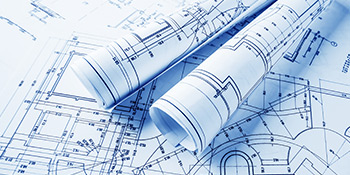 Drafting & Design
Ability to draft and design systems, and structures for customer approval using AutoCAD software.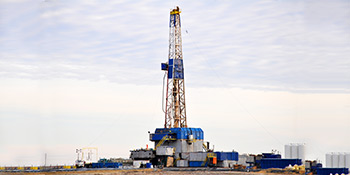 Gas Field Solutions
On site welding services, equipment modifications, support systems, mechanical work, water source pump station installs and maintenance, heat trace/insulation, excavating and right-of-way (ROW) repairs.
CERTIFICATIONS
Our employees possess a wide range of knowledge, years of experience, and certifications. Our welders are certified through the American Welding Society (AWS), and have earned specialized degrees from well recognized trade schools. All employees at Fenton Welding, LLC are at minimum 10 hour OSHA trained, and supervisors have earned their 30 hour OSHA credentials. In addition, all employees acquire their SafeLandUSA training for the US Onshore Exploration & Production Industry.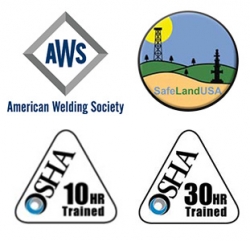 FENTON SAFETY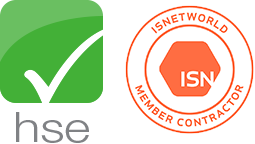 Fenton Welding, LLC is committed to the development, and continuous improvement of company Health, Safety, and Environmental policies and procedures. We have developed a culture in which HSE is equally important to all areas of our business, and we promote our employees to understand the important concepts of safe work practices while protecting our environment. It is our duty to our employees, their families, the environment, and our customers to ensure our personnel are provided with effective safety training, well maintained equipment, proper personal protective equipment, and awareness to harmful environmental factors.
Fenton Welding, LLC is a member of ISNetworld, a third party contractor safety compliance program. Our HSE programs, policies, and training requirements are verified with ISNetworld to ensure our employees are trained at the highest of standards, and ready for the job prior to arriving on location. In addition to continuous on the job training, all employees are trained internally in the following areas related to our line of work:
Assured Equipment Grounding (GFCI)
Benzene Awareness
Bloodborne Pathogens
Confined Space
Cranes
Disciplinary Program
Electrical Safety
Fall Protection
Fire Protection
First Aid
General Waste Management
Hand/Power Tool Safety
Hazard Communication
Incident/Accident Investigation Program
Ladder Safety
Lead Awareness
Lockout/Tagout
Noise Exposure/Hearing Conservation
PPE
Respiratory Protection
Rigging and Material Handling
Scaffold Safety
Stop Work Authority (SWA)
Subcontractor Management Plan
Trenching/Shoring/Excavations
Welding, Cutting, Hot Work
About Fenton
Fenton Welding, LLC is a family owned business, established in 1987 by the late Jack L. Fenton in Wyalusing, PA. Our company continues to grow steadily servicing one of the largest beef suppliers in the  U.S., by providing structural welding, general construction, and plant maintenance services. While our footprint has been in industrial fabrication, we have expanded our services in the Marcellus Shale natural gas field since 2009. Fenton Welding was built by our hard working and talented employees, that have helped develop strong business relationships, deliver our services on time, and go beyond the  expectations of our customers.
Our company offers a broad spectrum of services which includes structural welding and metal fabrication, complex industrial piping, general millwright services, excavating, drafting and design, and general commercial contracting. We are equipped to handle projects both large and small, and maintain close working relationships with our customers to ensure satisfaction. Our employees possess a wide range of knowledge, experience and certifications, including certifications from the American Welding Society (AWS), and specialized degrees from well recognized trade schools.
Our sister companies, Fenton Welding Transport, LLC and Fenton Service Center, LLC allow us to offer a full range of services to meet your needs. In addition to welding and contracting services, we offer equipment transportation including oversized loads, water and sand hauling, and truck repair and inspection services. We are well staffed with Class-A&B CDL drivers, AWS certified welders, licensed inspection mechanics, and project managers/engineers with years of experience in the construction and transportation industries.