FENTON TRANSPORT SERVICES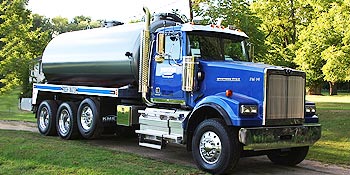 Fluid Hauling
Hauling fresh water, residual waste, production water, and flowback to frac sites. We use both 110 BBL straight trucks, and 130 BBL trailers.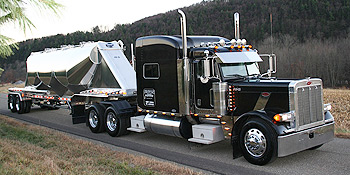 Sand Hauling
Transporting frac sand in pneumatic trailers from loading facilities to frac sites.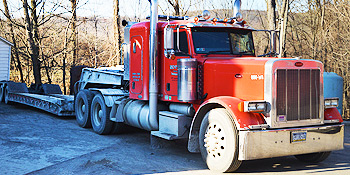 Equipment & Over-sized Loads
Tractor hauling with stepdeck, lowboy, and heavy haul lowboy trailers.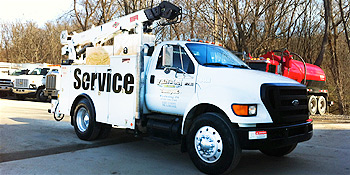 Utility Crane Services
Providing mobile equipment repair, and crane services at customer locations. Service trucks are fully equipped with welders, compressors, and tools to get the job done on the road.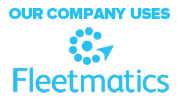 Fenton Welding Transport, LLC uses Fleetmatics GPS tracking devices in each one of our power units. This technology allows for us to efficiently dispatch, and monitor our fleet at all times. In addition to our own monitoring, we can also provide meaningful data to our customers with geo-fence capabilities using Fleetmatics. Geo-fence technology helps us identify operation inefficiencies (extended times) at loading/unloading points.  We work together with our customers to resolve unnecessary delays, which ultimately reduces the cost of our services. Why pay more if you don't have to?
QUALIFIED DRIVERS & FLEET MAINTENANCE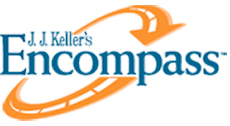 Fenton Welding Transport, LLC adheres closely to FMCSA regulations for "qualified" drivers. Our driver qualification files are maintained electronically through J.J. Keller's Encompass software. We have created a notification system using this program, which allows us to initially qualify drivers (the right way!), while routinely updating expiring information, and maintaining documents in accordance with FMCSA standards.
In addition to driver qualification, we also utilize the Encompass program for our fleet maintenance program. All, vehicle maintenance records are electronically stored, with additional benefits to notify/prompt us for preventative, and routine maintenance checks.
Fenton Welding Transport, LLC is a registered interstate property carrier listed with the United States Department of Transportation (US DOT). We are governed by the regulations set forth by the Federal Motor Carrier Safety Administration (FMCSA). Our customers can be assured that we take these regulations very seriously, and do so using automated compliance tools, and internal audit procedures.
We are committed to the development, and continuous improvement of company Health, Safety, and Environmental policies and procedures. We have developed a culture in which HSE is equally important to all areas of our business, and we promote our employees to understand the important concepts of safe work practices while protecting our environment. It is our duty to our employees, their families, the environment, and our customers to ensure our personnel are provided with effective safety training, well maintained equipment, proper personal protective equipment, and awareness to harmful environmental factors. In addition, our Safety Supervisors are in the field alongside our drivers both day and night to maintain communication between our drivers, customers, and general public.
Fenton Welding Transport, LLC is a member of both ISNetworld and BROWZ contractor safety compliance programs. Our HSE programs, policies, and training requirements are verified with ISNetworld, which certifies our employees are trained at the highest of standards, and ready for the job prior to arriving on location. In addition to continuous on the job training, all employees are trained internally on our own safety policies, as well as through OSHA's 10 hour course, and SafeLand USA.
Fenton Welding Transport, LLC is a trucking company located in Wyalusing, PA. Our company was established in 2009 to service the Marcellus Shale natural gas field industry, and has grown quickly thanks to the dedication of our employees, and high demands of our customers. We continue to grow at a responsible pace and never lose focus on our core values of safety, efficiency, and customer satisfaction.
We have a diverse fleet of trucking solutions which include water tank trucks (110BBL & 130BBL), dry bulk sand trailers, tractor trucks, service utility crane trucks, lowboys, and step-decks trailers. Our team of drivers, dispatchers, safety supervisors, and mechanics operate around the clock (24/7) to keep your company on track.
Our sister companies, Fenton Welding, LLC and Fenton Service Center, LLC allow us to offer a full range of services to meet your needs. In addition to trucking services, we have offered commercial contracting, excavating, welding/fabrication services, and mechanical service repair since 1987.
We are well staffed with Class-A&B CDL drivers, AWS certified welders, licensed inspection mechanics, and project managers/engineers with years of experience in the construction and transportation industries. We are equipped to handle projects both large and small, and maintain close working relationships with our customers to ensure satisfaction.